2020-fly-ins
International Fellowship Of Flying Rotarians New Zealand
Celebrating 25 Years of IFFR Fellowship in New Zealand
Thames Tentative Program
16 October 2020 – 19 October 2020

We have booked good weather so put it in your diary. The New Zealand section of the IFFR invite you to join us in Thames between the 16 October 2020 to 19 October 2020 to help us celebrate our 25th Anniversary. We are organising our programme with a variety of visits.  If you are flying in by private aircraft the Thames airfield is 3 km south of the town in the suburb of Rhodes Park. The airfield is named in honour of former Thames resident Air Chief Marshal Sir Keith Park, Commander of 11 Group Fighter Command during the Battle of Britain and is is located just three kilometres south of the Thames CBD.  We will provide a shuttle service for you to get to and from your aircraft to your accommodation.
Thames
A historical town situated 1.5 hours' drive from Auckland, Thames is located between the Firth of Thames and the majestic ranges of The Coromandel.  A 'crafty' town, Thames is proud of its heritage and is connected to the natural environment with an expansive bush wilderness as its backdrop. There are also many delightful shops here with local produce, art and friendly service. Follow the Thames Coast north to experience a stretch of Pohutukawa-fringed coastline interspersed with coastal villages, garden retreats, classic old dairies and other attractions awaiting those willing to take a more relaxed pace.
Thames has a rich Forestry and Gold Mining history with many surprising achievements.  Some of which are from 1871, A&G Price, one of NZ's oldest engineering works and foundry built Mining equipment, 298 stream and Diesel locomotives and are still a vibrant Thames employer today.  Toyota did have a major car assembly plant here from 1968 producing a wide range of Toyota vehicles, this assembly closed in 1997 and the plant was then re-purposed producing Signature Class refurbished vehicles.  This continues to this day.

Stay & Explore
The Coromandel is a renowned outdoor haven where rugged terrain meets idyllic coastline. The town of Thames is no exception, with its spectacular Pinnacles walk set in The Kauaeranga Valley to the Thames Coast Road fringed with Pohutukawa. Rich in gold and kauri history, the museums, stamper batteries and heritage experiences are plentiful.
ACCOMMODATION
Tuscany on Thames and/or Shortland Court
PROGRAMME Tentative

FRIDAY 16th October
Travel to Thames – own arrangements.   If flying into Thames by own plane park near the Thames Aero Club , contact Warren Sly +64-21-772 351 (mobile)  for transport from the airport to your accomodation
BBQ at Waiotahi Valley Lodge
SATURDAY 17th October
9.00 -10.00 Thames Market and morning tea

Held every Saturday from 8am – 12pm
Locally produced plants, organic and others, fruit and vegs, bric-a-brac, second hand goods and books, arts and crafts, fine food, cheeses, speciality oils, health and body care products, flowers, bread, knit wares, and much more.
10.00 – 10.30 Thames Museum
Come and take a look at the rich history the town of Thames has to offer. Step through the doors of the Thames Museum and step back in time; discover varied elements that went into the creation of the iconic town that is the heart of the Coromandel Peninsula. Inside you will find rooms that depict how our ancestors lived, from a miners hut, through to the comforts and luxury of Victorian rooms.
​The Museum now has a shop which has a selection of local art works and merchandise.
10.40 – 12.30 Goldmine experience
A self-guided tour allows you to explore the photographic museum, view a video presentation, discover mining relics, see steam-powered machines, & become acquainted with the Cave Weta colony. Try your luck at gold panning!
The tour underground can be muddy, especially during the wetter months. Bring closed-toe footwearand a water proof jacket just in case, your own torch if you have one, and plenty of luck to strike it rich! See stampers in action, pan for gold and walk through the mine.
12.40 – 1.15 Lunch
1.45 – 2.45 Kauaeranga Valley DOC Centre
Historic movie, Dam and afternoon tea 13 km up the Kauaeranga valley, is the main point of contact for track, hut and camping information, with 24-hr information panels underthe covered veranda. The Visitor Centre has displays visual of the area's kauri logging days. The Kauaeranga valley, once filled with magnificent kauri trees, was extensively logged from the 1870s to the 1920s. Today only a few giant kauri remain – the Cookson kauri featured on the front cover is one – although young kauri saplings are spread throughout the forest. Tall trees such as rātā, rimu and tawa now emerge above the canopy of native vegetation, home to forest birds such as tūī, bellbird, tomtit, grey warbler, shining cuckoo, kererū and morepork. North Island brown kiwi and kākā are occasionally present.

3-15 – 4.00 Bella St Pump House,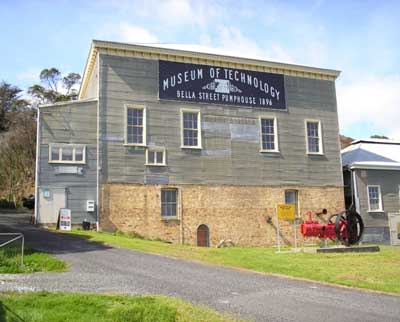 The largest mine water pumping system to keep the deep mines dry in the Southern Hemisphere. It has been nearly one hundred years since the pumphouse engines last operated, but history lives on through working scale models, the original massive counter balanced pumping quadrants still in place over the main mineshaft, the recreated five metre diameter flywheels and the recently unearthed fourteen tonne crankshaft. The comprehensive photographic displays and the very informative narrative delivered by museum volunteers will help take you back through all those years.
You will be in awe of the engineering involved, the boilers to generate the steam for the engine, the mechanics of the pumps, the volume of water they were able to lift from such an extraordinary depth, the built-in extra capacity that was never required,  all presented in a personal and knowledgeable way by our volunteers.
6.00 Dinner with Thames Rotary
SUNDAY 18th October
9.00 -10.00
AGM and morning tea
10.45 -1.00 Karangahake gorge Train trip to Waihi return and Lunch
2.00 – 3.00 Paeroa Maritime Museum and Afternoon tea
4.00 – 4.30 Thames Art Society Exhibition
6.00 Dinner

MONDAY 30th October
Depart at your leisure .  Fly or drive  safely, we will see you again somewhere in the World or New Zealand at another IFFR adventure
REGISTRATION
Not yet determined